Palestinian Tape Selection
The Living Room (Al-Madafeh) - Listening Programme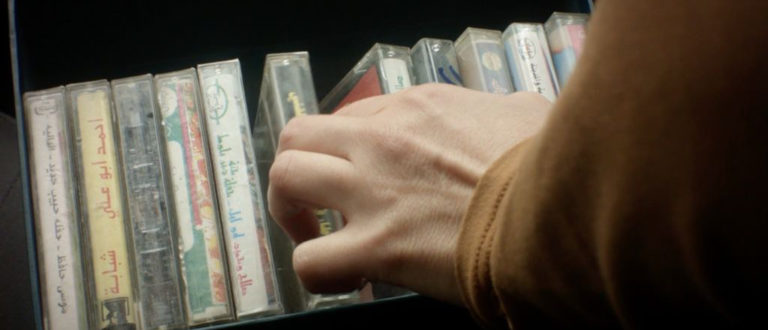 Listen to these monthly selections in The Living Room (Al-Madafeh), in the exhibition DAAR – Sandi Hilal and Alessandro Petti – Stateless Heritage.
Over several years, Mo'min Swaitat has amassed an archive of rare Palestinian tapes and vinyl, spanning field recordings of weddings to revolutionary tracks and synth-heavy 80s funk. The Majazz Project is a research project born of this archive, focused on sampling, remixing and reissuing vintage Palestinian cassettes. It is a collaboration between Arab and non-Arab DJs, producers and artists interested in shedding new light on the richness and diversity of Palestinian musical heritage.
In this collaboration with The Mosaic Rooms, The Majazz Project presents a four month listening residency. Four individually curated playlists built around different Palestinian genres will be made available to audiences in London for the first time. Listen to them in The Living Room (Al-Madafeh) space, part of the exhibition Stateless Heritage. In December The First Intifada EP will be pre-launched in a music event.
Monthly line up:
October – Sounds of the Eighties Part 1, built around revolutionary songs from the First Intifada
November – Sounds of the Eighties Part 2, Palestinian Jazz, Funk and Soul
December – Palestinian-Bedouin songs, focused on 'Hadda' – traditional improvised spoken word 'battles' recited to music
January – Palestinian Wedding music from the 1970s onwards
This residency is part of the public programme of the exhibition Stateless Heritage by DAAR – Sandi Hilal and Alessandro Petti.
Mo'min Swaitat is a London-based Palestinian Bedouin actor, filmmaker, music producer, DJ and archivist from Jenin. He trained at the Freedom Theatre, Jenin and arthaus, London and Berlin. He is a creative director with Sarha Collective and founder of Majazz, an archive of Palestinian and Arab vinyl and cassettes and record label based at East London's Finch Café. More about Mo'min Swaitat
Images: The Majazz Project. Courtesy of the artist.
Tickets are not available as this event has passed.